DETAIL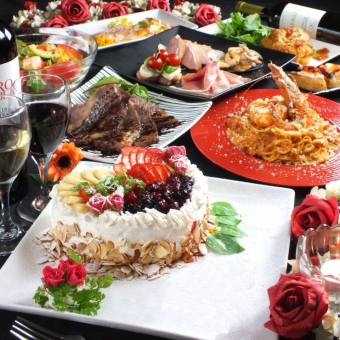 ☆ Lucky Seven Anniversary Surprise Course with Special Hole Cake & Memorial Photo 4320 yen ⇒ 3500 yen ★ tax included
By using a coupon
3500 yen
Friday · Saturday · Sunday · Holiday · 4000 yen on the day before holiday ★ with Hall cake & commemorative photo with special message
Birthday · anniversary celebration! Hall cake with special message and courses with commemorative photograph prepared ♪ All 10 popular menu including "Carpaccio" "Ajejo" "Mentaiko Cream pasta" + 3 hours free unlimited drinks !
Menu

● appetizer three prime

● Raw Ham, 7 kinds of vegetables Quiche Mentaiko Potato Salad

Shrimp and avocado onion salad

● salmon and octopus carpaccio

● Roast beef onion sauce sauce

● Salmon and mozzarella raw ham wrapped fried

● Seafood Achillo

● Tauriata honey balsamico sauce of Japanese Wagyu beef sirloin

● Minced meat with shrimp and cream pasta with shrimp

☆ Hall cake with special message and memorial photograph ☆

Picture gift on the spot!
Coupon that can be used
◆ Weekend Fee 0 yen Service Coupon ※ All courses are available ◆ Friday, Saturday and Sunday ◆ Possible ♪

Presentation conditions

At the time of booking and the time of order

Conditions of use

It can not be used with other tickets / services / more than 2 people / limited to November.

Expiration date

November 01, 2017 - November 30, 2017

☆ Lucky Seven Anniversary Surprise Course with Special Hall Cake & Memorial Photo 4320 yen ⇒ 3500 yen ★

Presentation conditions

At the time of booking and when visiting

Conditions of use

Not applicable with other tickets / services · 2 people or more · Reservation required · Food and beverage

Expiration date

Until the end of January 2018